taSauwur Sultanate of Oman
Photographer Gerald McLean
Publishes First Hand Account of Middle East Experiences
By Mary Burke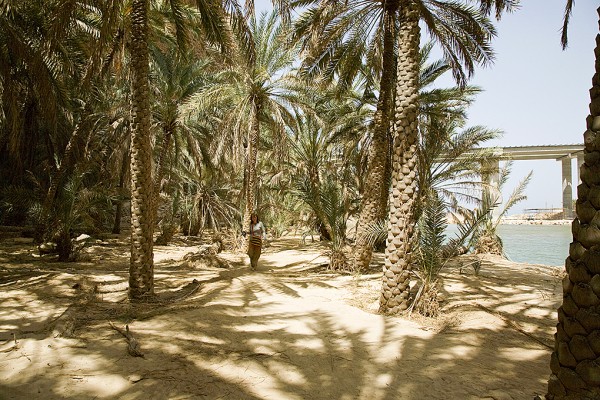 London – September 21st, 2010.
With digital advances in publishing and photography, photographers are producing books of their work in ever-increasing numbers. Gerald McLean, a veteran British Architectural Photographer has raised the bar in producing his first book taSauwur Sultanate of Oman. With a competent working knowledge of design, desktop publishing, and of course, photography; this book is completely self-produced, published, and distributed. "…between those wanting to take credit, without any input, and refusals from my preferred publishers, self-publishing became the most logical route to market".
For a self-confessed non-writer, Gerald expresses himself with confidence more akin to a seasoned author. His writing style is frank, in keeping with the book's professional but personal design, used to display beautiful, stunning photographs. "…getting photographic books published to photographers wishes is uncommon, and often expensive to produce. In the old days of analogue publishing, my expression would have never seen the light of day, or if I hadn't equipped myself with the skills to complete this journey to self-publication."
After suffering a debilitating illness, Gerald had all but given up ever being able to continue his passion for photography. But whilst rehabilitating, he chose to see this as an opportunity to return to education completing an MA in digital imaging, studying information and communication technologies, and desk-top publishing. "…laying there in hospital, I truly thought my days as a photographer were over. And when my central vision returned, I figured I might change my profession. As it turned out, in reality, I was adapting my photographic methods to enable me to return, even better than before." This is only too clear in the completion of this book, which he began as far back as 1991.
Gerald presents the book in three sections, as he explains; "'taSauwur'; roughly translates 'to picture', 'to imagine, it's the phrase I used in asking to photograph people. Photographs covering 1992 along with my diary of events form the first section of the book 'A Photographers Dream'."
"I continued to return to the Sultanate of Oman over the next sixteen years, and some of the photographs taken on these trips form the basis of the second section of the book 'Interim'."
"The last section of the book, 'Modern Oman' describes many changes that have taken place since 1992, bringing the book and diary up-to-date."
In publishing his book Gerald has achieved a long-held dream to share his experience and photographs of the Middle East country Oman. Published on the 18th November 2010, to coincide with the Sultanates' 40th National Day; the 28cm square, 356 pages, full colour, hardcover book (ISBN 978-0-9560932-2-6), and a pdf eBook (ISBN 978-0-9560932-1-9), are available through www.tasauwur.com.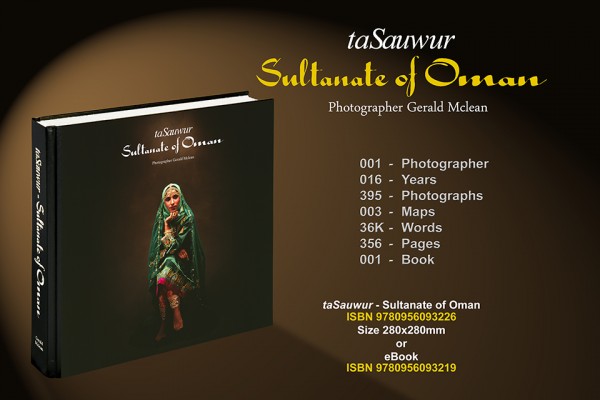 – 001 – Photographer
– 016 – Years
– 395 – Photographs
– 003 – Maps
– 36k – Words
– 356 – Pages
– 001 – Book

– ends –