GRACE in this place – photobook  (ISBN: 9780956093240)
'GRACE in this place' – 'Grace' is a reference to her name, also her persona, and the "place" being a reference to the 'physical' whilst also referring to the 'metaphysical' – is the depiction of daydreams and thoughts through photomontage' and as such an exploration into the unachievable.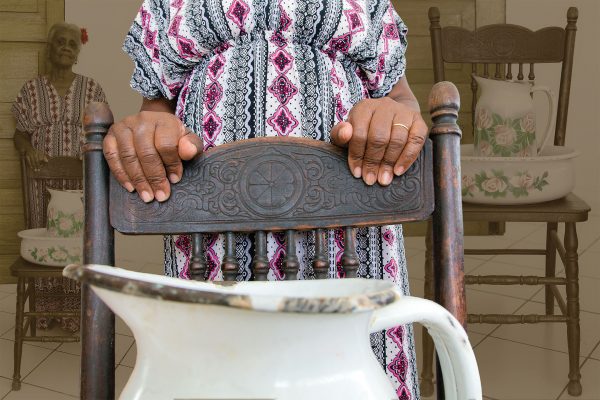 Grace is the mother of the author whose text – included in the book – provides the impetus for the photographs taken partly in Jamaica and England, and then the creation of the photomontage images; is sensitively dealt with.
To quote the academic feedback of this work; 'Grace in this place' is extremely sensitive, as you allude to in the critical review. The challenges of individually interpreting your practice while retaining the integrity of your subject. You have achieved this delicate balance with elegance. The documentary strategies you have deployed in the sequencing, design, and text, and image have created the pathos and understanding that are commiserate with your intentions. Your invention of 'Grace in this place' is sophisticated and professional, the images have been well edited and conform with your intentions." "'Grace in this place' is a magnificent body of work. Extremely well researched and beautifully produced." Ben Edwards Senior Lecturer at the University of Westminster.
The publication date for the book was set for in 2020, to coincide with LBOC and a series of planned exhibitions. These were of course all canceled due to the Covid-19 pandemic. Nevertheless, the book was published early in 2021 without fanfare.